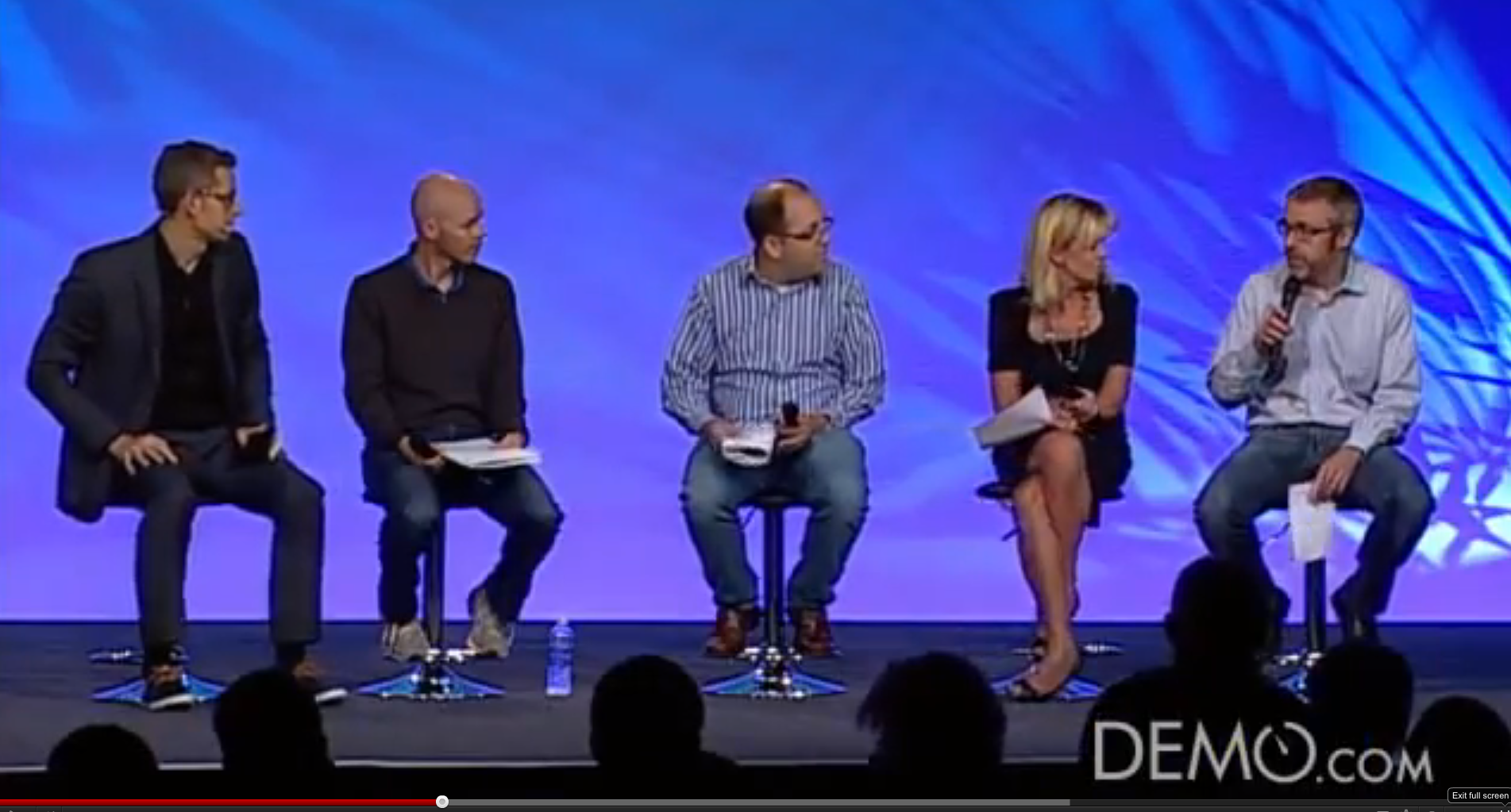 It feels a little delayed to share this post now, three weeks after the DEMO Fall 2012 event.  The event offered so much to Tellagence that we are only now able to get around to it.  These are good problems. At the beginning of 2012 Nitin and I set a major milestone – launch Tellagence at DEMO Fall 2012 on October 2nd.  After talking with our launch team we decided this event was the best time and place for us to introduce Tellagence to the world.  Three weeks ago we did just that.  We not only attended DEMO Fall 2012, we had the chance to lead off the social category with our demo presentation.
Ask my colleagues; I am a wreck before a presentation.   Anxiety is off the charts.  After two weeks of this scrutiny, those 6 minutes go by quickly.  The time disappears.   I walked off stage not fully remembering what I said but I knew we hit the points we wanted.   The feedback we received from the sage panel was great.
The panel included Mike Cassidy (Director of Search Project Management, Google), Josh Elman (Principle at Greylock Partners), Tracey Isacke  (Director Business Development and Investments at Telefonical Digital),  Jason Mendelson (Managing Director at Foundry Group)
Our entire team worked like crazy to get to hit this milestone.  They spent many long nights and weekends over 6 months and they delivered something great.  We knew we had to pick the right team to launch Tellagence and the first product the way we had envisioned.   We were successful.
DEMO was a wonderful experience.  The show was extremely organized and the behind the scenes team was awesome.  I have to admit that there is nothing more nerve racking than working on a company for two years and getting six minutes to present it to a room full of press, VCs and potential clients.  To add to the pressure I knew that my family and tons of other people were watching the live stream.  I would do it again in a heartbeat.  It was worth the work and pressure.
Nathan Gold (The DEMO Coach) told me that the most important thing about your pitch is the video because it lasts for a long time after the event.   You can check out our video in this post.  I feel like we did our journey at Tellagence proud and we can now start bringing it to more of the world.